Film Schools
Top 10 Film Schools in the world
Know about top film schools in the world that will help aspiring artists to change and make their lives and build a great career in acting industry.
There is no easy way to become an actor or actress. But these are the most common steps for those who try to pursue a career path in acting industry. There are currently many film schools worldwide. Below are the Top 10 film schools in the world:
1. USC School of Cinematic Arts, United States
University Of Southern California's USC School Of Cinematic Arts is very renowned located in the heart of Hollywood and has been confirmed as the only movie school in the world where students can learn all the major disciplines of the Cinematic Arts. They offer an extraordinary interdisciplinary learning experience.

USC provides opportunities for women and men from different regions such as Europe, Asia, Africa, and America to explore and show your potential.

This is a place where many of the Hollywood's filmmakers started out as the USC School of Cinematic Arts offers the world-class facilities such as an IMAX theatre, research labs, that makes it one of the most ultra-modern film schools in Los Angeles.

USC has excellent faculty and resources which is known to have the biggest strength as the motto of the USC is that the best education can come if there exists an environment where both theory and practical approach is given parallely.

The USC School of Cinematic Arts offers film degrees that includes:

MFA in Animation and Digital Arts
MA in Cinema and Media Studies
PhD in Cinema and Media Studies
PhD in Cinematic Arts (Media Arts and Practice)
MA in Cinematic Arts (Media Arts, Games and Health)
MFA in Cinematic Arts, Film & Television Production
MFA in Interactive Media
MFA in Peter Stark Producing Program
MFA in Writing for Screen and Television

If you want to apply in the USC School of Cinematic Arts, you can apply here.
2. American Film Institute (AFI), United States
The American Film Institute which is located in the capital of the world that aims to train the young, aspiring and budding filmmakers in different aspects of filmmaking, while also make them learn about the rich past of Hollywood.

The main vision of the American Film Institute is to convert the future of moving image into an art form. They mainly focus on creating national education initiatives which can inspire many artists and audiences.

The institute allows students to produce four personal films during their studies and get an opportunity to meet and get advice from visiting some industry experts including the likes of 12 Years a Slave.

AFI is specially known for its Conservatory, a graduate-level film school which is headed by the notable filmmakers who provide hands-on experience and training to the students. AFI also features a notable Film School, designed to teach different Filmmaking concepts exclusively to women. Students and Alumni of AFI have been rewarded with major industry awards throughout their career, including the Academy Awards, Guild or Emmy awards.

The American Film Institute Conservatory offers film degrees that includes:

MA in Cinematography
MA in Directing
MA in Editing
MA in Producing
MA in Production Design and Screenwriting

If you want to apply in the American Film Institute, you can apply here.
3. Vancouver Film School, Canada
Vancouver Film School is located in Vancouver, Canada. Vancouver Film School or VFS is a well known school for entertainment arts, so as the film school's reputation that the Government of Shanghai has selected VFS to rebuild the nation's creative industry.

VFS provides a four-month Acting Essential course and also a 6-month Digital Character Animation program. Students are expected to be a high school graduate or at least one should be 19 years of age to apply to VFS. The students of Vancouver Film School graduate with a diploma.

The Vancouver Film School offers post-secondary programs for a year in different areas that includes:

Film Production
Makeup Design for Film & Television
Acting for Film & Television
3D Animation & Visual Effects
Digital Design
Classical Animation
Foundation Visual Art & Design
Game Design
Entertainment Business Management
Sound Design for Visual Media
Writing for Film & Television

From 3D animation to sound design, Vancouver Film School provides their students a concise one-year program focusing on gaining practical knowledge alongside industry knowledge.

If you want to apply in the Vancouver Film School, you can apply here.
4. National Film and Television School (NFTS), London
National Film and Television School (NFTS) is a Film, TV and gaming school which was established in the UK in 1971 and was featured in the 2021 ranking by The Hollywood Reporter of the top 15 International film schools.

NFTS is the only film school in the UK with its own film and television studios.

NFTS offers a wide range of specialized postgraduate degrees, including 17 master's programs, 14 diplomas, five certificate awards and a number of short courses. There are more than 20 full-time courses a student can choose between as per their career orientation.

NFTS students work has been nominated 3 times for an Oscar within the last few years.

The National Film and Television School offers various courses that includes:

MA in Cinematography
MA in Directing Science and Natural History
MA in Directing Documentary
Diploma in Directing Commercials
Diploma in Sports Production
Diploma in Script Development
Certificate in Screenwriting
Certificate in Filmmaking
Certificate in Character Animation

If you want to apply in the National Film and Television School, you can apply here.
5. La Fémis, France
La Femis was founded in 1943, located in Paris on the site of old Pathe studios. It is considered to be one of the best films schools in Paris. It provides programs/courses taught only in French, but also provides a medium to exchange programs with US institutions such as CalArts and Columbia University.
Alumini of La Femis have won the top 3 film prizes – Cannes' Palme D'Or, the Venice Film Festival's Golden Lion, and the Berlin International Film Festival's Golden Bear – 11 times, more than any other film school's former students.

There are number of celebrities in the French film and TV industry who are alumni of La Femis.

The La Femis Film School offers various courses that includes:

Initial courses like Distribution/Cinema Management course, TV Series Development course, SACRe PhD programme (PSL), etc.
Cinema and Audiovisual professionals continuing education workshops and trainings – Documentary Filmmaking, Feature Fiction Writing, Series Show running, Theatrical Film Exhibition, etc.

If you want to apply in the La Fémis, you can apply here.
6. London Film School, England
London Film School is one of the most highly reputed film schools in Europe, located in the heart of central London which is open only to postgraduate students who are looking to gain a master's degree or a PhD.

The London Film School mainly focuses on building craft and production skills in a practical environment. Also, it has been named as one of just three Film Academies in the country by the Creative Skill set, a UK governmental agency.

LFS offers courses that include MA, Ph.D. and part-time workshop programs focused on craft excellence, aesthetic achievement, creative collaboration, and artistic freedom. Courses are workshop-based.

The London Film School is completely an international film school, with half of its students coming from outside the United Kingdom.

Some of the LFS's alumni include cinematographer Roger Pratt (HARRY POTTER) and Editor Mark Goldblatt (RISE OF THE PLANET OF THE APES).

The London Film School offers various courses that includes:

MA Film Making
MA Screenwriting
MA International Film Business
PhD Film
Short-term professional development courses

If you want to apply in the La Fémis, you can apply here.
7. California Institute of the Arts, CA
California Institute of the Arts(CalArts) is the most prestigious film schools in Los Angeles which was incorporated in 1961 as the first degree-granting institution of higher learning in the US created mainly for students of both the visual and performing arts. It was first envisioned in the early 1960s.

CalArts has been ranked as America's top college for students in arts by Newsweek/The Daily Beast. California Institute of the Arts has set its pace for educating professional artists since 1970.

The CalArts envisions the film as a vehicle for the story whose mission is to give students the skills, tools, and the language to tell their own. CalArts mainly focuses on four areas—Character Animation, Experimental Animation, Film and Video, and Film Directing.

Students of CalArts can pursue BFA and MFA tracks. The "fine arts" designation reflects how the students choose independent film as an artistic expression, instead of a commercial enterprise.

Animation is a strong part of the CalArts program, so as many of the best-loved animated feature films were written, directed, and animated by CalArts students. Also, CalArts facilities include studio space, animation labs, field equipment, digital editing and post-production spaces, film scanners,etc.

CalArts provide different medium such as - Internships, international collaborations, and the REDCAT film exhibit space offer students to bring their work to the public and to other professionals.

Additionally, films like Coraline, The Nightmare Before Christmas, The Lego Movie, Finding Nemo, Kubo and the Two Strings, Beauty and the Beast, and Frozen all came from or partially, the work of CalArts alumni.

The CalArts offers various degrees that include BA, MA, MFA, DMA through its six schools:

Arts
Critical Studies
Dance
Film/Video
Music
Theater

If you want to apply in the CalArts, you can apply here.
8. Sydney Film School, Australia
Sydney Film School is a private film school which is based in Waterloo, founded in 2004 by industry professionals and film lecturers from the University of Sydney.

Sydney Film School mainly aims to have students working in the industry as soon as possible, by offering one-year programs, certificates, and various degree programs. There approach is practical, rather than academic. With the help of functioning and set and production crew, students acquire valuable skills and professional connections.

It has a cooperative relationship with Sydney Acting School, which creates an environment where new filmmakers have access to everything they need to realize their artistic vision. The Sydney Film School also accepts international applicants, though tuition and fees are a bit higher.

The Sydney Film School offers two 1-year courses that includes:

Diploma of Screen and Media
Advanced Diploma of Screen and Media

If you want to apply in the Sydney Film School, you can apply here.
9. Film and Television Institute of India, India
Film and Television Institute of India (FTII) is a film institute under the Ministry of Information and Broadcasting of the Government of India which was set up in 1960, in the premises of the erstwhile Prabhat Studios in Pune and was formerly known the 'Film Institute of India'.

FTII is a member of the International Liaison Centre of Schools of Cinema and Television (CILECT), which is an organization of the world's leading schools of film and television.

FTII takes pride in its open door policy of admission. Students come from diverse backgrounds and from all walks of life are welcomed here.

The main aim is to create a new generation of storytellers: visual and performing artists who has the passion for motion pictures and want to learn by making their own hands-on projects.

Celebrity guest speakers from the film, television, and media world frequently visit FTII to share their knowledge and experience with the students.

FTII's alumni work everywhere: from Los Angeles, Paris, and London to Mumbai, Hyderabad, Trivandrum, Chennai, and Kolkata. They have gained popularity and have earned various awards as accomplished technicians and superstars. The alumni's have also won popular film and television awards from the 'National Film Awards' to 'Oscars', to the 'Dada Saheb Phalke award' to the prestigious 'Padma Awards'.

The Film and Television Institute of India offers full-time courses in various disciplines of film and television which includes:

Direction & Screenplay Writing
Cinematography
Editing
Sound Recording & Sound Design
Art Direction & Production Design
Screen Acting
Screen Writing (Film, TV & Web Series)
Direction
Electronic Cinematography
Video Editing
Sound Recording & Television Engineering

If you want to apply in the Film and Television Institute of India, you can apply here.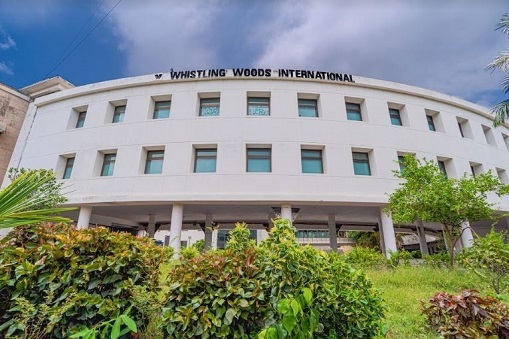 10. Whistling Woods International Film school
Whistling Woods International (FTII) is a film, communication and creative arts institute located in Mumbai, India, founded by one of the India's leading filmmakers – Subhash Ghai. WWI has been promoted by Mukta Arts and Film City Mumbai.

In July 2014, Whistling Woods Interational (WWI) has been rated in the top 10 film schools by 'The Hollywood Reporter'. Also, WWI has been awarded as a Global Institute of Influence by Forbes in 2015. It has also awarded as the Best Institute for Creative & Performing Arts in India by FICCI in 2019.

Whistling Woods International has its affiliation from 2 universities to offer 2, 3 & 4-yr graduate and postgraduate programs. They are namely Tata Institute of Social Sciences and Rajiv Gandhi National Institute for Youth Development.

The teaching methodology in WWI is designed so as to ensure that the students' learning is collaborative and industry-oriented. Whistling Woods International also has interests in RnD in emerging technologies & also in the Media & Entertainment industry. WWI is undertaking teacher training for the Media Studies elective in the 11th and 12th grade.

The WWI has a body of academics and renowned industry professionals like Subhash Ghai, Rajen Kothari, Rob Reece, Anjum Rajabali, Rakesh Ranjan and many more, and with regular guest lectures by leading Indian & International filmmakers, actors & technicians like Ashutosh Gowarikar, Farhan Akhtar, Shyam Benegal, Naseeruddin Shah, Danny Boyle, Rajkumar Hirani, Rakeysh Mehra, Vishal Bharadwaj, Farah Khan, Nagesh Kukunoor, and many more.

The Whistling Woods International Film school offers courses in various disciplines that includes:

Actors' Studio
Animation & Game Design
Visual Communication Design
Fashion & Costume Design
Media & Communication
Event Management
Music
Filmmaking
Sports & Esports Management

If you want to apply in the Whistling Woods International Film school, you can apply here.
---
Join Cineda Network!
Cineda is a networking platform for filmmakers - directors, actors, artists & film professionals.
Join Cineda